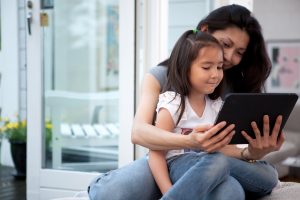 As your child learns how to read, learning sight words is crucial to the development of this new skill. Sight words are words that often appear in text, but are not words that a child can figure out by sounding them out phonetically. Below is a list of common sight words preschoolers should know:
I
Go
See
Like
My
Is
And
To
The
A
You
It
Said
Not
Down
Can
Big
Little
We
Am
Have
On
For
At
Up
Look
She
He
In
That
When teaching these words to your child, you should include them in context with other words they often see, such as their name, siblings' names, pets, friends, street name, or any other words that your child is exposed to on a daily basis. Sight words can be learned through basic memorization, similarly to how you learn color names or multiplication tables.
Sight Word Learning Strategies
Whenever you are reading to your child or going about your day, point out these words at any time you happen across one. If you are reading a book, have your child underline each instance of the word and trace the letters. When following the Reggio Emilia model, you can become extra creative by writing a book together with your child, using sight words in repetition. Allow them to develop the story, guiding them through proper word usage.