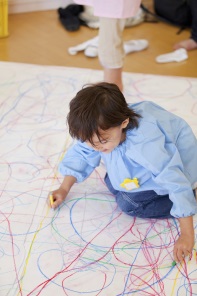 A love of learning isn't something kids are simply born with or without. While some may be genetically predisposed to be curious and seek out new learning experiences, what's more important is the environment in which a child is introduced to learning. Get your children away from the desks and lectures and let them flourish in active, engaging environments that will make them lovers of learning for life.
Enroll in a Reggio Emilia School
The Reggio Emilia model has proven effective at giving children — from infants to four-year-olds — a head start in life compared to their traditionally schooled peers. At Bartram Academy, our teachers are considered collaborators or "co-learners" alongside of our students. We guide the children to learn through activities they decide to explore themselves, and we work one-on-one to adjust the curriculum to each individual.
Encourage Engagement in the Arts
At Bartram Academy, you'll see children painting, creating, building, and crafting throughout the day. An interest in the arts develops a child's creative mind, but can also make learning analytical skills less cumbersome and more natural for them. For example, a child can learn about gravity while building when the blocks come down at their touch.
Teach Tactile Learning
When students learn through touching and moving, they experience a more tactile form of learning than their peers stuck at desks. Tactile learning makes remembering easier and allows students to see concepts in action.
Schedule a tour of Bartram Academy or contact us for more information today. We encourage you to start the admissions process for your child as early in life as possible — although it's certainly not too late if your toddler or preschooler has already attended another school or daycare before. The best head start can make all the difference when it comes to teaching your child a love of learning.
P.S. Check out our shout out in Diaries of a Working Mommy's blog!