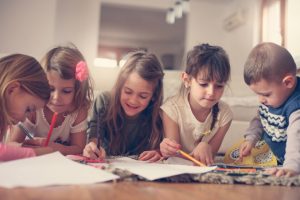 Many in the field of education, particularly early childhood education, are looking at teaching and the classroom in a whole new way. Inspired by the Reggio Emilia model, they do things differently in the classroom and even in setting up the classroom.
As part of this educational approach, teachers serve as guides and learn along with the children. In fact, the third teacher is thought of as the classroom that is created to be a space that empowers children to explore their environment. All of this fosters learning, with the curriculum growing out of the child's interests.
Regarded as one of the best approaches to learning for young children, the Reggio Emilia model places an emphasis on the arts, and it is common for pre-school students to complete an assignment called a Self-Identity Panel. This panel is a self-portrait the child makes of themselves, using the self as the model, as well as serving as the artist.
Such a panel promotes original thinking as each child approaches the project differently. In addition, children are encouraged to talk with other students about their ideas. Such a fresh and open approach shows value for each individual and their mode of self-expression. It also encourages students to look at and inside of themselves.